'Doc' Miller's Salt City Saints play authentic New Orleans jazz from the early 1900s. Early New Orleans jazz was developed from various musical sources present in New Orleans around the turn of the century. 'Doc' Miller's dedication to honoring the true early tradition with vocals in French and vintage instruments has earned the Saints many bookings throughout Utah and neighbouring states. 'Doc' Miller was invited to sit in at Preservation Hall in New Orleans in 1991 where he played clarinet one night and piano the next.
Miller won Intercollegiate Jazz Festival trophies three consecutive years in the 1960, the Sounds of Young America national composer trophy and several Utah Composers Guild prizes in the 90s. His reconstruction arrangements of vintage New Orleans jazz have been premiered by Utah Symphony, Colorado Springs Symphony and Salt Lake Symphony. In the 1970s Miller hosted his own prime-time TV show on the main NIRTV network in Tehran.
The Salt City Saints are a fun high energy band true to tradition like few others. Performances at the famed Days of '47 Parade viewed by millions on TV, at Utah's main festivals, many times at the Univerisy of Utah, Brigham Young University and dozens of school performances add to the credibility of this exciting ensemble.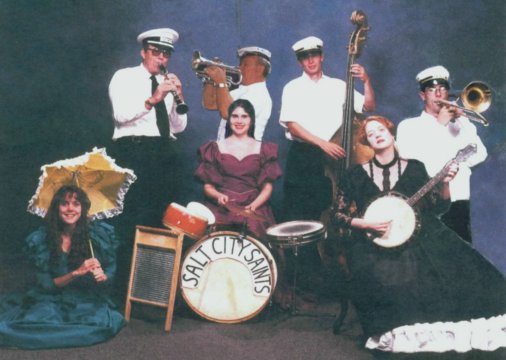 FREQUENTLY ASKED QUESTIONS




Q: What is special about the Saints?

A: They are one of the few surviving exponents of authentic New Orleans jazz as established by the original masters.

Q: What bands do the Saints replicate?

A: The Saints play the Bunk Johnson/George Lewis style and also the early Chicago sound of the 1920s typified by King Oliver, Louis Armstrong's Hot 5, Hot 7 and Jelly Roll Morton's Red Hot Peppers.

Q: What's in the Saints' repertoire?

A: The Saints play music from around the turn of the century and shortly thereafter. Up tempo tunes include: O When the Saints (theme song), Just a Closer Walk With Thee, Just a Little While to Stay Here, Down by the Riverside, Lord Lord Lord, Over in the Gloryland, Streets of the City, Mama Don't Allow, Sister Kate, When You Wore a Tulip, Ballin' the Jack, Dippermouth Blues, Doctor Jazz, etc. Slow tunes are: Careless Love, Corine Corine, See See Rider, Nearer My God to Thee, Old Rugged Cross, St. James Infirmary, etc.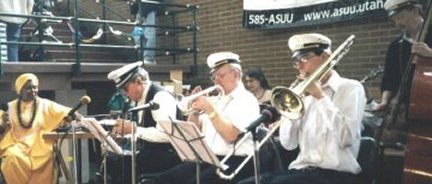 BAND MEMBERS
Lloyd 'Doc' Miller, whose musical talent is exceeded only by his energy and charm, leads the Salt City Saints. In addition to his role with the Salt City Saints, he leads SwingnJive & L.A.Blues and is the music director for IDT. Miller has been playing authentic New Orleans jazz since 1950 on all the instruments of the tradition. He has scored traditional jazz world premiers for Utah Symphony, Colorado Springs Symphony and Salt Lake Symphony. He won Intercollegiate Jazz Festival trohpies three consecutive years in the 1960s and several recent Utah Composers Guild awards.
Miller earned a PhD in Persian from the Univeristy of Utah with a dissertation on music and song texts which has been published by Curzon Press under the title Music and Song in Persia. He has developed a set of over 40 transcription/arrangements of traditional jazz standards which the Saints use in their performances. Although the musicians are skilled instrumentalists, using transcriptions of original performances helps to maintain authenticity.



LISTEN TO 'DOC' MILLER'S CLARINET (20 sec. mp3).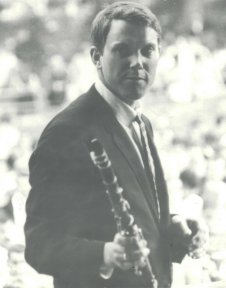 LISTEN TO 'DOC' PLAY "HIGH SOCIETY" (20 sec. mp3).
'Doc' Miller on piano at Preservation Hall in 1991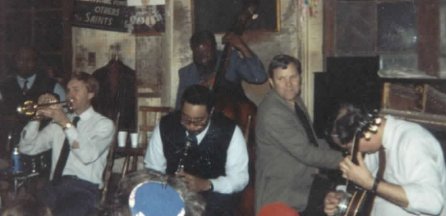 Musicians Who Have Played With the Saints
Musicians often seen performing in the Salt City Saints Saints include:Dan Henderson, Kelly Ricks, Lisa Verzella (trumpet) or Dick Skillicorn (cornet); Alisha Ard, Nate Seaman or Pete Jensen (trombone); Carey Hobbs or Joe Jensen (tuba); Secily Saunders, formerly Jesse Crosby or Jared Pendley (banjo); Angela Toon, Amy Jackson or Jenny Bangerter (piano); Ben Johnson or Malena Jones (bass); Lynn Brown, Katherine St.John or Ken Breinholt (drums) and Sister Maryam Muhammad (vocal). For special jazz history programs, Miller's scores have been performed by first chair instrumentalists from Utah Symphony or by U of U Jazz Studies director Henry Wolking, BYU jazz studies director Dr. Ray Smith, and other well respected members of Utah's jazz community.
When on tour, 'Doc' Miller invites local musicians to perform with the Saints either as a opening act or as members of the band when they can read the transcriptions properly. As part of outreach activities in various communities, Miller trains junior instrumentalists to play traditional pieces in the New Orleans style.



Salt City Saints at U of U Plazafest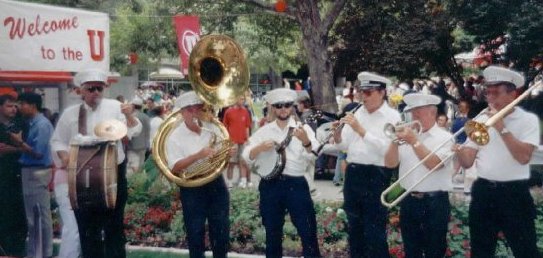 TRADITIONAL NEW ORLEANS JAZZ

Sources for original New Orleans jazz were: African, French, Spanish, Celtic and European parade music. Blues and blue notes from Sub-Saharan African musical traditions such as common to the Tuaregs was added to African instrumentation such as the monochord fiddle (imjhad) and its blues characteristics, the skin-covered lute and lyre and percussion instruments with African drum patterns. Instrumentation from the European parade bands which were based on earlier Turkish Janissary bands was added resulting in the format of: clarinet, cornet, trombone, tuba, snare drum and bass drum with the option of baritone and alto horns. When music was played inside, the tuba might be replaced by string bass, the piano and banjo were added and eventually the drums were joined into a set. Wind instruments were played with vibrant emotion with fast vibrattos enherited from the French tradition. Some vocals were in French, the original language of Louisiana.
After 1917, traditional New Orleans jazz went to Chicago, New York and California and became a national craze. White musicians tried to imitate the original African-American bands and some early white bands almost captured the spirit. But later white bands from after the 1940s have mostly produced spazm imitations with little real feeling or drive lacking an understanding of the exacting collection of melodic sequences passed down from the original Franco/African tradition. Recent groups have been enamored with the idea of traditional jazz attempting to emulate it; but the result is all too often a hodge podge comercial counterfeit by imitators who unwittingly promulgate a dim shadow of the original complex musical vocabulary and phrasology.
We invite all sincere and skilled performers of traditional jazz to look to Bunk Johnson, George Lewis and similar bands for inspiration, for a good example of the correct notes, the right phrases and their interpretation.



LISTEN TO SALT CITY SAINTS PARADE BAND





O When the Saints (20 sec. mp3).


Gettysburg March (30 sec. mp3).


Lord, You Sure Been Good to Me (30 sec. mp3).

Over in the Gloryland (30 sec. mp3).
You Tell Me Your Dreams (40 sec. mp3).
Sometimes my Burden's Hard to Bear (45 sec. mp3).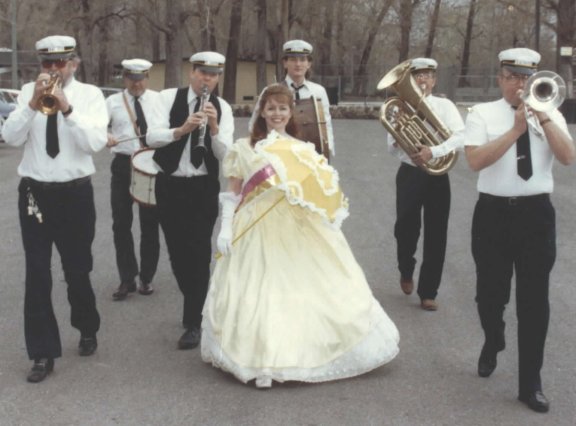 The Saints at the Delta Center Jazz Games, 2002-03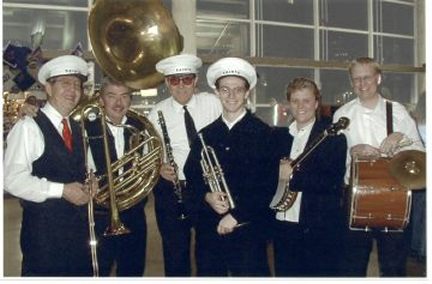 The Saints at Farmer's Market Grand Opening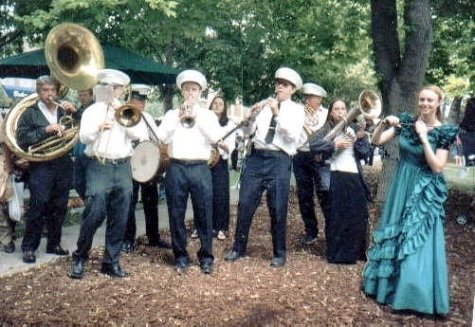 SALT CITY SAINTS FUNERAL BAND